Women in sports: Resilience of Sportswomen Celebrated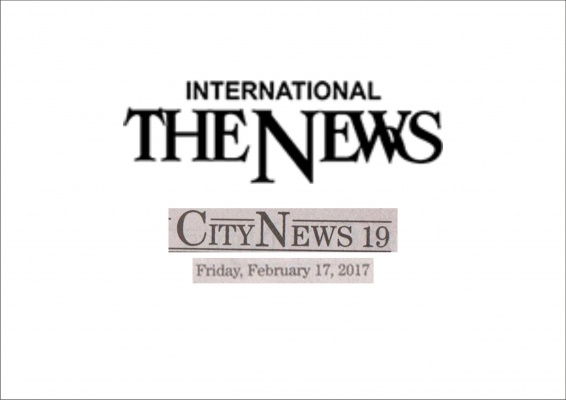 16 Feb 2017. Comments (6)
INTERNATIONAL WOMEN'S DAY

Islamabad
A large number of people of the twin cities of Rawalpindi and Islamabad, representing all walks of life paid rich and glowing tribute to Pakistani Sportswomen in a ceremony titled 'Women in Sports' held In Sports Complex, here on Thursday, says a press release.
In connection with the National Women' Day (that is celebrated on every 12th February), Potohar Organization for Development Advocacy (PODA), in collaboration with the Pakistan Sports Board, Islamabad, with the assistance of European Union Delegation to Pakistan paid tribute to Pakistani sportswomen, including Olympians, champions, gold medallists and award winners and national record holders who brought rich acclaim and laurels for their achievements in sports.
Female players face discrimination from home to society to assert their right to play. Usually, right to play is not considered a right for female child a priority since her childhood, whereas United Nations' Convention on the Rights of Children's article 31 clearly states: "You have right to play, rest and live in a healthy environment." At one hand, Article 24 of the Universal Declaration of Human Rights states that "Everyone has the right to rest and leisure, including reasonable limitation of working hours and periodic holidays with pay." The World Economic Forum's gender gap report 2015 also places Pakistan at 144th position out of 145th countries. And, at the same time, the Constitution of Pakistan recognises equality between men and women. Article 25(2) states: "There shall be no discrimination on the basis of sex." Article 34 of the Constitution of Pakistan ensures "full participation of women in national life".
Deputy Head of EU Mission to Pakistan, Mrs. Anne Marchal applauded the achievements of Pakistani sportswomen who in a short time brought glory and laurels to their communities and country as well. She also mentioned names of Pakistani sportswomen who made history in their own manner.
Presenting overview of PODA, Executive Director, Dr. Parveen Ashraf said: "Sport is a great tool to empower women as it creates confidence, skills and physical strength. A key challenge for Pakistani women and girls in sports is the lack of facilities and safe public space, making it difficult to exercise or play without the risk of facing harassment or even worse." She was of the view that only steadfastness and resilience are the characteristics which ensure success. "It becomes responsibility of the entire community to support youth to exercise their right to play safely, while ensuring an enabling environment for female to play,' she added.
Other keynote speakers were; Masooma Ijaz, former national champion & gold medallist in Badminton and Sports Counsellor and Aftab Qureshi narrated the challenges faced by sportswomen, while meeting international standards to compete with international players. Deputy General Pakistan Sports Board that women participation in sports portrays their leadership skills. He was of the view that when a woman player succeeds she challenges many gender based barriers. "Women are given less chances and opportunities to play basically depicts a world trend, as women players are low-paid as compared to their male counterparts and this too is world-over phenomenon," said that we need to overcome, he added.
Besides, describing barriers due to which women's participation is less in sports, she shared that how important it is to cope with failure in a manner to rise again to the excellence.
The gala ceremony to pay tribute to Pakistani sportswomen, opened with the speech of a young swimmer, Eishal Yasser who conveyed that Pakistan's future is bright and protected as relying on the sacrifices of older generations, the youth is taking all out measures to be the source of pride for the country.
Former national hockey player, Riffat Masood's talk provided context, while portraying the time when the sportswomen were counted on the finger tips, and when it was almost prohibited for women or girls to play.
A noticeable number of sportswomen shared their personal stories and highlighted the challenges they faced during their course to exert their right to play. The sportswomen who spoke included; Bushra Parveen, Olympian and national champion in 800 m race in 2004's SAF Games; Rabia Ashique, national record holder in 2011, National Championship in 10,000 M race; and in 2012 in 5000 M. She participated in London Olympics in 2012. Rajia Shabir - a young promising cyclist, Ms. Iram, judo player, who won in recent SAF Games, Aleena Aftab Qureshi - national tennis player, and Maham Aftab Qureshi who is No. 2 in national ranking for tennis.
Local theatre group 'Lok Natak" presented a powerful play on the theme of women empowerment during the event and received rich applause for bringing forward a positive story of a sportswoman who in the end has won with the support of her family.
https://www.thenews.com.pk/print/186849-Women-in-sports-Resilience-of-sportswomen-celebrated