Press Release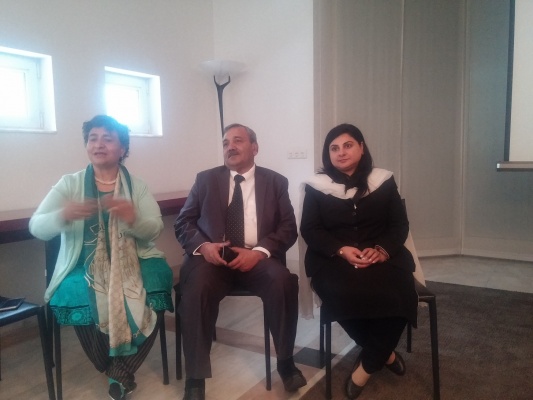 08 Mar 2017. Comments (0)
For Immediate Release
Contact: Mr. Muhamamd Zubair, Manager Programs
Email: programs@poda.org.pk
Islamabad: Potohar Organization for Development Advocacy (PODA) organized a panel on 'Women Rights: challenges and opportunities in Pakistan" on the occasion of International Women Day in Swiss Embassy, Islamabad. The aim of the panel was to discuss the issues faced by women in Pakistan and an overview of implementation of pro women laws in Pakistan. Dr. Parveen Ashraf, Executive Director, PODA while speaking on the event said "Be bold for change and pledge for parity and all stakeholders should play their role to bridge gender gap" She demanded that "Government should formulate policies for effective implementation of pro women and laws and must legislate to address domestic violence against women"
Advocate Hifsa Bukhari- Chairman Anti Corruption Lawyers Forum highlighted issues of women rights and said that "Women are not aware about their legal rights and attitude of the society towards women rights is not favorable" She also demanded that "There should be no discrimination on the bases of gender in whole legal process and judiciary and government should ensure protection of legal rights of women and provide conducive environment for women in all legal processes" She added that "Steps should be taken to abolish parallel legal customary institutions and proper mechanism should be provided to access all the legal system to get speedy justice"
Advocate Khawaja Zahid Nasim-Legal Adviser, PODA shared that "Government should provide sanctuary and shelter homes for women victims and survivors of violence". He said that "Economic empowerment can play an integral role to address GBV issues as the woman who is economically empowered can live a violence free life".
Mr. Muhammad Zubair-Manager Programs said that "Efforts should be made to ensure women political participation so they can actively contribute in development of the country". He shared that right to vote is a Pakistani women constitutional right and efforts should be made to facilitate voter registration of women so they can use their right to vote in upcoming General Elections-2018
Ms. Nabeela Aslam, Project Manager said that "Despite of all initiatives for gender equality, the Gender gap has been widening day by day and this gap can be filled with efforts of all segments of society" She added that "Affirmative actions' should be taken for gender equality in all walks of life"
Mr. Roder Kull, Deputy Head of Mission, Swiss Embassy, Islamabad also congratulated all participants a very happy international women day.