PODA marked International Women Day in district Chakwal with rural women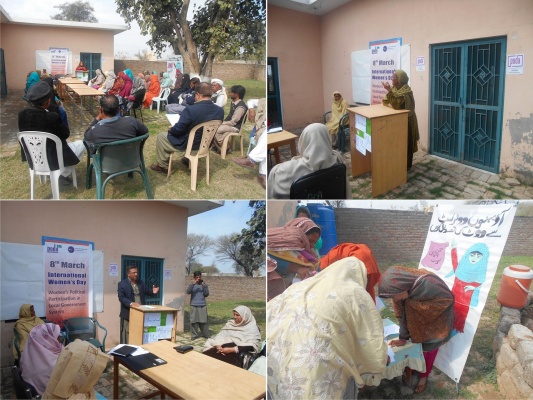 08 Mar 2017. Comments (3)
Potohar Organization for Development Advocacy (PODA) marked International Women Day in district Chakwal with rural women. The aim of the event was to recognize the efforts and success stories of different rural women in their political life at grass-root level. The event was attended by over 40 rural women, farmers, women councilors and community activists. Participants emphasized on important role of women in political process. Ms. Naheeda Abbasi shared that PODA has been working on inclusion of rural women in political process and in this regard PODA has launched CNIC and voter registration campaign to facilitate rural women to have their CNICs. Ms. Rehana Nasreen, ex women councilor and Ms. Bushra Afzal, women councilor shared their success stories that how they struggled for their political rights. Ms. Rehana Nasreen ex councilor said that she actively participated in local government system due to capacity building trainings organized by PODA. Ms. Bushra Afzal, women councilor said that she will actively participate in local government system and it is very interesting to meet the rural women and understand their issues. She shared that economic empowerment of women is integral for development of communities. Ms. Ayesha Bibi-a farmer women appreciated government efforts to legislate pro women laws. She demanded effective implementation of pro women laws at all levels. Ms. Naheeda shared the history of the day that women demanded the right to vote in a early 19s. The right to vote is Pakistani women constitutional right.
Mr. Tariq Nazir, Chief Operating Officer (COO) PODA, congratulated all women on International Women's Day and said that by power may be anybody control and hit on a party but will not control on a mind of women, so respect them and acknowledge their contributions.
During the event, PODA also facilitated rural women to verify their vote details in voter lists. Over 50 rural women checked their vote details.