PODA holds sports festival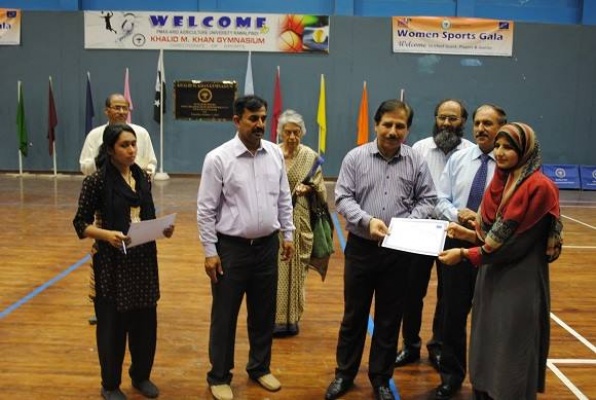 04 Apr 2017. Comments (3)
Islamabad:
The Potohar Organisation for Development Advocacy (PODA), a non-governmental organisation (NGO) arranged 'Women Sports Gala' at the Pir Mehr Ali Shah Arid Agriculture University, Rawalpindi (PMAS-AAUR) and the Quaid-i-Azam University (QAU) in Islamabad.
The event was arranged in collaboration with the directorate of Sports and Students Affairs at the PMAS-AAUR and with the Anthropology Department of the QAU, Islamabad. The events were supported by the European Union Delegation to Pakistan to boost empowerment through sports among women, specifically youth, and to lessen the gender-based inequalities in the country.
The day-long Intra-university sports activities ensured participation of female students representing ten departments and faculties in a variety of sports including Handkerchief picking (a kabbadi like sport), Tug-of-War, 'Chatti Race', 3-Leg Race and an exhibition match of badminton.
The events drew enthusiastic participation and appreciation from beginning till the end of the gala. Khalid M. Khan Gymnasium with seating capacity of 250 seats was full to its capacity with the presence of spectators who were there to encourage their departments' teams.
Dr. Zarina Salamt, a vibrant personality who is PODA's board member appreciated the teams and the audience for making the event a success. Dr. Sarwat N. Miraz, registrar, Dr. Khalid Saifullah, principal officer and Dr. Mazhar Hussain Bhutta, Director of Students Affairs, Rana Zahid Assistant Director Sports awarded winners and runner-ups with certificates.
Following were the results at the PMAS-AAUR: Tug-of-War: Department of Social Science: Winner and the Department of Veterinary Medicine (DVM) the runner-ups. 'Chatti Race': DVM winners. Department of Basic Sciences were runner-ups. 'Handkerchief-picking': Department of Basic Sciences: Winners. Department of Agricultural Sciences: Runner-ups. '3-leg Race': Agricultural Sciences: Winners. UIMS (University Institute of Management Sciences): Runner-ups.
The events arranged by PODA at the QAU, Islamabad, in collaboration with the Anthropology Department on the football ground included the '3-Leg Race', 'Spoon Race', 'Tug-of-War', and the 'Dots Competition' (like nashana bazi). The events were open for all, with focus on encouraging the female students participation.
https://www.thenews.com.pk/print/196252-PODA-holds-sports-festival