Capacity Building Training for Local Government Representatives 2017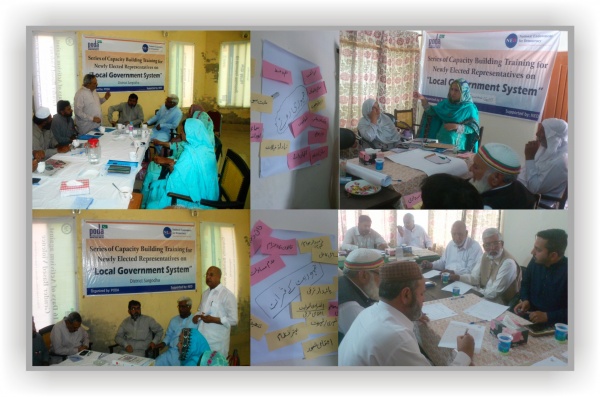 07 Apr 2017. Comments (15)
PODA team trained 52 New elected representatives of local government in District Sargodha and District Rawalpindi (Punjab) during two training on "Local Government System" on 28th March and 5th April,2017.
Participants of the training were Chairman, vice Chairman, General councilor, lady councilors, youth Farmers Councilors representative of minority seats ( 5 Females and 48 males). Three agenda items were explained in the training from Punjab Local Government Act 2013.
- Responsibilities and Powers of local Govt (Functions of Union council)
- Panchayat and Masalihat Anjuman
- Need and importance of Democratic Culture.
Ms. Naheeda Abbasi was the facilitator of these capacity building training. During the training members decided 15 functions for themselves as very important tire of local Governments to do and monitor the things in their relevant communities. In the session of need and Importance of the democracy two card were given to each participants of the training and each one were asked to explain.
To assess the base knowledge of the participants a pre-test were taken on a questionnaire and same questionnaire were given at the end of the training as post test.
Quotations from training participants.
1. Mr. Yasir Secretary of Union Council Guff tehsil Kalar Syedan district Rawalpindi expressed "this is the 3rd monthly sitting of the house (12 members of Union Council) at Union Council office and this is the most fruitful session for all members, he added that the duration of regular meeting was an hour and due to the information and facilitation of the PODA team they worked more than three hours very productively on Training day ".
2. Mr. IftiKhar Vice chairman of the same Union Council expressed that we must learn collectively about this local government and this is first training in which all members understand about their functions and who will be members of Panchayat.
3. Chairman of the Union Council Mr. Faisal Munawwar appreciated this initiative of PODA team at the right time, he added that many confusions are cleared during this training regarding functions of the local government.
4. Mr. Muhammad Yousaf Youth councilor said that this is his first training and he has learnt a lot during the discussion and group activities, now I am able to perform my role as youth Councilor and to solve the problems of my local area.
5. Mr. Muhammad Saleem Chairman MC Bhaira District Sargodha said during the training that although I have already attended the training by the government, now I better understand the role of members of local government during this training session by PODA team.
6. Ms. Yasmin Akhtar Lady councilor said to the members of the Union Council "You understand the importance of the woman today"