Inter-University Quiz Competition 2017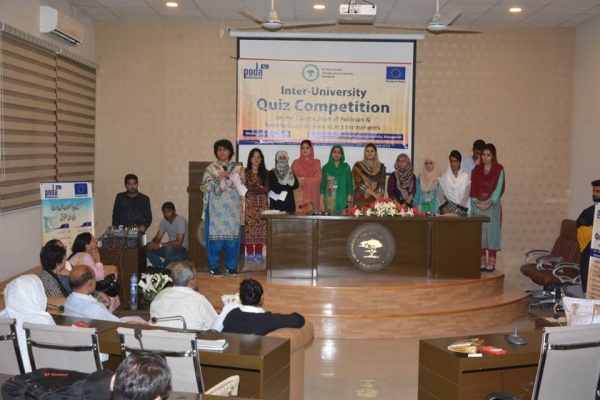 03 May 2017. Comments (9)
Wednesday 3rd May: Rawalpindi; In connection with the World Press Freedom Day, PODA in collaboration with the PMAS Arid Agriculture University Rawalpindi organized "Inter-University Quiz Competition" to raise awareness on the Constitution of Pakistan and International Instruments of Human Rights on Wednesday in which seven teams of prominent universities of Rawalpindi and Islamabad participated with enthusiasm.
Throughout the Quiz Competition, articles related to the freedom of expression that is ensured in our Constitution and international human rights conventions ratified by Pakistan, remained in focus and were highlighted.
European Union in Pakistan supported PODA to raise awareness on the subject of human rights and rights enshrined the Constitution of Pakistan which are pivotal for strengthening democracy and democratic values in the country. Five teams of 10 students, mainly female, comprised of two students each took part in the competition.
Tooba Azeem and Rabia Rafeeq of Students of International Islamic University, Islamabad topped the competion securing 1st position and received cash prize of ten thousand rupees; Dhanak Hashmi and Mahnoor Shiekh of Riphah International University, Islamabad secured 2nd position and received cash prize of nine thousand rupees; and Asfand Yar of Quaid-e-Azam University, Islamabad and Anam Aziz of PMAS Arid Agriculture University, Rawalpindi secured 3rd position and shared cash prize of eight thousand rupees. Teams of Preston University, Islamabad and of host university of PMAS Arid Agriculture, University, Rawalpindi also participated enthusiastically and received certificates of merits.