PODA Jugni Theatre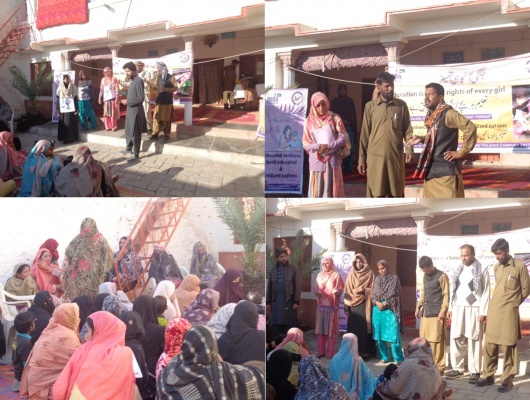 10 Dec 2017. Comments (2)
Girls Right to Education was the main theme of the play performed by PODA Jugni Theater group as part of PODA's activities during 16 days of activism to end violence against women. The play depicted the conflicting views present in rural communities about education of girls and built the story to conclude on the note that education for girls is necessary to empower them.
The play was performed by three female and four male actors of the group at village Mogla of Tehsil Talagang, district Chakwal on 30th of November from 3:30 pm to 4 pm.
At the beginning of the play the man playing the role of father insisted that he would send only his son to school because he could afford education expenses of one child only. He was of the opinion that the girls does not need to be educated. The man's wife was trying to convince him that both the son and the daughter should go to school.
As the play progresses the father turns into an ardent supporter of girls education. He allows the daughter to go to school and even refuses to marry her to the illiterate fiancé who was opposing her education. In the setting of a village it was a very powerful message that a girl was able to continue her education despite serious hurdles including threat to her life and that the family, especially the father, took a firm stand for the education of his daughter.
Following were some powerful lines spoken in the play in support of girl's education:
"jay mard scoolay ja sakda fir aurat tay pabandi keon?" (if boys can go to school then why girls are prohibited from it?)
"eh gal Quran nay kahi ay Taleem da haq sharee ay" (According to the teachings of Quran education is a basic right in Islam)
"Taleem tay naan shaoor da ey; eh hukam sohnay Hazoor da ay" (our beloved Holy Prophet said education give awareness and wisdom)
jis ghar wich parhi huwi maan huway oh ghar ilam di chaan huway (wisdom and sense of respect prevails in the home where an educated mother lives)
"keun ilam day which Tafreeq karoo hun Soch apni noo theek karo" (Now all people need to correct their thinking. There should be no discrimination in education for boys and girls)
"ki eidhay wich koi shak hay taleem Aurat da haq hay" (There is no doubt that education is the right of all girl)
Men opposing girls' education expressed their sentiments by saying:
"Aurat di taleem Nahee Tasleem, Nahee Tasleem" (education for girls or women is not acceptable)
"behtar hay ghar day kam karay, peo di gal tay Kan dharay" (She should better do house chores and listen carefully to her father)
A total of 52 audiences (45 women, 2 men, 5 children) watched the play. These included women teachers, youth students, farmers, lady health workers, house wives and a woman with disability (blind young lady).
PODA Jugni Theater group has been developed for the education of rural communities through theater performance which is an effective and powerful communication tool. This group has prepared plays on various community issues and has performed at different occasions and different venues to raise awareness on social, cultural and political issues faced by rural communities.