PODA's launching ceremony to observe 25th Year of the 16 Days of Activism against Gender-Based Violence, Islamabad (25th November - 10th December)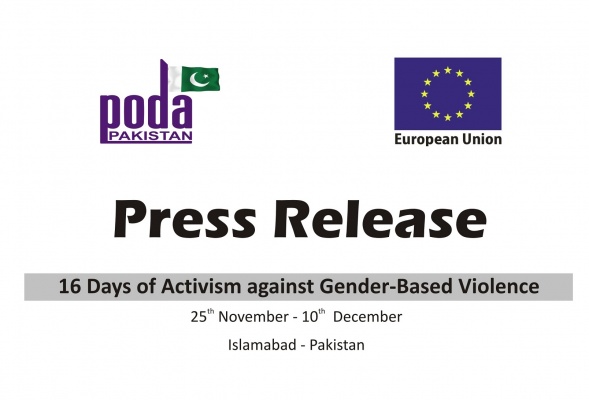 24 Nov 2016. Comments (0)
ISLAMABAD; November 24, 2016: The speakers of the launching ceremony of 16 Days of Activism against Gender-Based Violence stressed on the need to be united to end violence against women and girls, while boosting up all efforts and resources focused on eradication of violence from communities.
The speakers stressed the need to spur concrete efforts and measures by all stakeholders including the government, civil society organizations, communities and international community to advance in the direction of gender equality, women's rights and women's empowerment.
This is 25th Year of the 16 Days of Activism Against Gender-Based Violence Campaign, initiated in 1991 and coordinated by the Center for Women's Global Leadership. The theme for the current campaign is: 'Raise money to end violence against women and girls'. From 25th November, the International Day for the Elimination of Violence against Women, to 10th December, Human Rights Day, the 16 Days of Activism against Gender-Based Violence Campaign aims to galvanize action to end violence against women and girls around the world.
Founder - PODA, Ms. Sameena Nazir said that ending violence against women, girls and marginalized communities is must for communities, societies and people to lead violence-free lives that is essential for healthy economies.
Ms. Sameena Nazir said that the government needs to fulfill its international commitments to end poverty, disease and hunger, combat inequalities and ensure peace and prosperity. In this regard, the government need to aim all-out measures to target Sustainable Development Goals (SDGs) to reduce gender gap and promote women empowerment.
Regional Manager of PODA, Ms. Naheeda Abbasi said we are witnessing more violence around us specifically in rural areas for which all including societies and the government need to be on same understanding level for peaceful societies where all human beings both men and women can utilize their full potentials to add into the betterment of their communities. She stressed on the need to allocate more resources for the rural communities to end violence against women and girls. "In rural areas efforts from awareness raising from human rights' perspective to proper implementation of laws are most needed where violence is rampant in its every form," Ms. Naheeda said.
Advocate Hifza Bukhari termed the government's recent efforts to pass two laws on anti-rape and anti-honour killing as a good beginning. However, she laid emphasis on effective implementation of the laws as criminals involved in heinous crimes against women have impunity. She said there is a dire need to make the offense "non-compoundable". Ms. Hifza said that women need to have a mechanism of security and safety for their protection prior to the incidents of honor related crime.
She said: " It needs to end to the impunity to criminals who are not punished in most of the cases of violence against women. The structural discrimination against women needs series of rigorous efforts at all levels from the communities to policymakers to understand and address the inherent bias against women that show patriarchal mindset. It requires change on all levels. For this all are needed to put their best efforts to bring change at all levels."
Chairing the session, I.A. Rehman said we all need to be proactive to respond to any situation related to violence against women that is happening on so many levels and in so many forms. We all need to raise voice for the rights of all marginalized communities of the country who have been facing violence.
Enthralling the audience with her poetic verses, renowned poet, Ms. Kishwar Naheed also showed deep concern on violence against women which on rise.
The ceremony concluded on candle light vigil.
Human Rights Commission of Pakistan's 2015's report highlights cases of violence against women and identifies:"Gender justice in access to education, health, economic opportunities and political empowerment continued to elude women in 2015." The report mentions that during the year; 939 women became victims of sexual violence, 279 of domestic violence; 143 women were attacked with acid or were set on fire; 833 women were kidnapped. Despite the volume of cases, the rate of prosecution remained fairly low; 777 women tried to commit suicide; and around four thousand cases of child abuse were reported.
Note: For more details contact Ms. Nabeela Aslam: 03365119924