Press Release: Two Sports Galas in the Twin Cities by PODA to boost sports among youth for resolving conflicts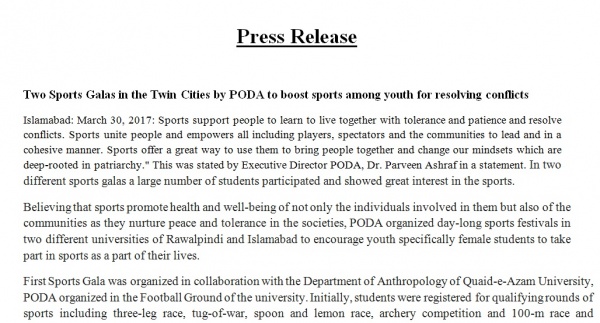 30 Mar 2017. Comments (13)
Islamabad: March 30, 2017: Sports support people to learn to live together with tolerance and patience and resolve conflicts. Sports unite people and empowers all including players, spectators and the communities to lead and in a cohesive manner. Sports offer a great way to use them to bring people together and change our mindsets which are deep-rooted in patriarchy." This was stated by Executive Director PODA, Dr. Parveen Ashraf in a statement. In two different sports galas a large number of students participated and showed great interest in the sports.
Believing that sports promote health and well-being of not only the individuals involved in them but also of the communities as they nurture peace and tolerance in the societies, PODA organized day-long sports festivals in two different universities of Rawalpindi and Islamabad to encourage youth specifically female students to take part in sports as a part of their lives.
First Sports Gala was organized in collaboration with the Department of Anthropology of Quaid-e-Azam University, PODA organized in the Football Ground of the university. Initially, students were registered for qualifying rounds of sports including three-leg race, tug-of-war, spoon and lemon race, archery competition and 100-m race and afterwards, from qualifying round winners took part in finals. A large number of students both male and female participated in the sports.
Second Women Sports Gala was organized in collaboration with the Directorate of Sports and Students Affairs department of the university exclusively for female students in which students representing eight faculties participated in sports of handkerchief, chatti race, three-leg race, tug-of-war and badminton exhibition match.
Sports continue to play a role in advancing the global development agenda and is recognized within the SDGs as "an important enabler of sustainable development". Goal 3 of SDGs clearly indicates: " Ensure healthy lives and promote well-being for all at all ages."Goal 5 also focuses on empowerment of women and reducing discrimination against women.
The opportunities that sports present are limitless from health, to sustainability, to employment, to education. Sports inspires, unites and empowers all and could serve a mutual bond between communities.
Acknowledging 'right to play' as one of the basic fundamental rights that is also ensured in the Constitution of Pakistan as Article 34 ensure equal participation of women in spheres of life, the host organizations will plan the event to boost sports among female students so that through this platform they can utilize their physical energies as healthy human beings.
Believing on that "sports empower women" and realizing that sports are under-utilized as a development tool, PODA planned to revitalize sports as an integral factor of a comprehensive development program.# ENDS.
For More Information Contact Project Manager 03365119924